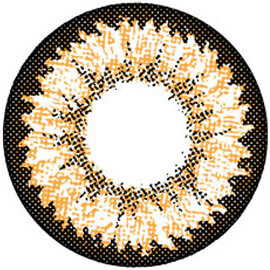 DAISY BROWN
If you want an amber tone to your iris, this is the perfect lens!
Daisy Brown blends naturally on darker colored eyes, and with its translucent surface, it adds an overlay of subtle yellow-golden hues. The border is bold with a great enlargement effect. On blue or green eyes, this lens will tend to look greener due to the translucent property of the lens.
- CLOSE UP -
DIA 15.0mm / BC 9.0mm / 12month
Beautiful effect.
These lenses are so pretty, they enlarge the look of my eyes quite a bit. I have light blue eyes naturally and I find that these lenses cover it up very well. I also love that I can wear them all day without any major irritation.