Pull Off Your Halloween Look with Best Black Colored Contacts
Dark contact lenses or black contacts have become a popular trend that people use to alter the appearance of their eyes. Being part of the special effects contact lenses, these colored contacts give a theater effect to the eyes and are commonly used as a good Halloween costume. Celebrities use black sclera contacts to achieve a vampire effect and the brighter, deeper and emotional eyes, such as those of vampires are the effects of those lenses. The eyes become spooky black, giving the best surreal and scary zombie effect as we see in horror and vampire movies.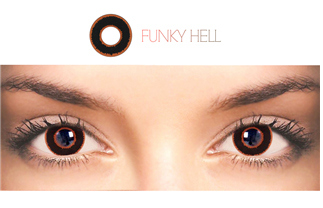 When it comes to colored contact lenses, there are those that are astigmatism lenses while others are plano. If you are looking for special effects colored contacts to correct your eye vision, then there are many contact lenses you can settle for. Colored contacts for astigmatism have come a long way in recent years. Today, toric lenses are generally considered the best for astigmatic eyes. Readily available, these lenses are very effective as far as vision correction is concerned.
Black colored contacts are among the most popular contacts that you can find in the market these days. These contacts are great to wear along with that gothic look you are trying to pull off! Halloween time sees an increase in the purchase of these dark contacts, as they are the best colored contacts that can work miracles when you aim to scare people. Though they are one of the best colored contacts, the color of the lens does not go with all outfits and situations. They are more suited when worn to trendy parties and discos, so choose your outfits to match the dark color of the lens, if you really want to pull off the look.
The black colored contacts are also perfect for those who look to create ripples with their shocking new look. These lenses are available with varied patterns on them that adds funkiness to your look. Black lenses that covers the white of your entire eye, make it look entirely black, will definitely add authenticity to your Halloween costumes. Not only these lenses give you a cool and scary look at special occasions, but also allow you to use them as costume jewelry that you can use in various situations.
Donning a pair of black colored contacts are the smartest choice after all. They are not only regarded as the best colored contacts for astigmatism, but also help people achieve a black eye effect that stands out. They give your eyes a dramatic look that makes you look cool and aloof.
Author's Bio:

Discover cheap and amazing colored contacts, toric contacts and freaky Halloween contacts for any occasion at QueenContacts. Our fantastic range of CE and Korea FDA approved contact lenses create a beautiful look when worn.