Sharingan: All Stages
Sharingan is called "Copy Wheel Eye" in English, that is the dojyutsu kekkei genkai (abilities that are passed down genetically within specific clans) of the Uchiha family. It is known as one of the best dojyutsus, and only appears selectively among Uchiha clan members. They must confront extreme grief or sorrow by witnessing the death of loved ones. Sharingan can be upgraded to Mangekyou Sharingan, which is said that only a few members of Uchiha to attain by killing their loved ones, according to Uchiha Itachi. It has abilities to see through into other Shinobis' abilities and copy them. Although the overuse of Sharingan causes vision loss.
Amaterasu(天照)
: Itachi's right eye, Sasuke's left eye
Black flame comes out of sharingan. Although once the fire ignites, it won't stop until it completely burns the object, Itachi can control it by closing his eyes, and Sasuke can with his right eye, Kagutsuchi. It damages the eyes that it starts bleeding while using Amaterasu.
Kagutsuchi(炎遁・加具土命)
: Sasuke's right eye
It allows the user to control and tame the black flame of Amaterasu that is usually hard to manipulate. Sasuke has saved Karin by estinguishing the flame with Kagutsuchi, and has made a shield with black flame by altering its shape during the battle with Raikage.
Kamui(神威)
It is a dojyutsu that Kakashi and Obito use. It allows the user to eliminate not only the specific space but also items and explosions into another dimension. The left eye and right eye are connected to each other in another dimension. When Kakashi can only swallow things up into another dimension, Obito enables himself to take things in and out from the dimension freely.
Hatake Kakashi
Kakashi has an ability to copy other Shinobi (ninja)'s abilities. He's managed to copy over thousands of Jujyutsu, and bereaved Obito's left Sharingan. Therefore, the patterns of Obito and Kakashis' Sharingans are the same with different angles. It is connected with Tobi's right Sharingan.
Tsukuyomi(月読)
: Itachi's left eye
The user gets to control all time and space, and Tsukuyomi allows the user to drag others into the world they dominate. During the confrontation, Itachi almost led Kakashi to derange his mentality by using Tsukuyomi and stabbing Kakashi for 72 hours. Since he controls time, the counterpart gets huge damage in a second.
Uchiha Sasuke: Mangekyou Sharingan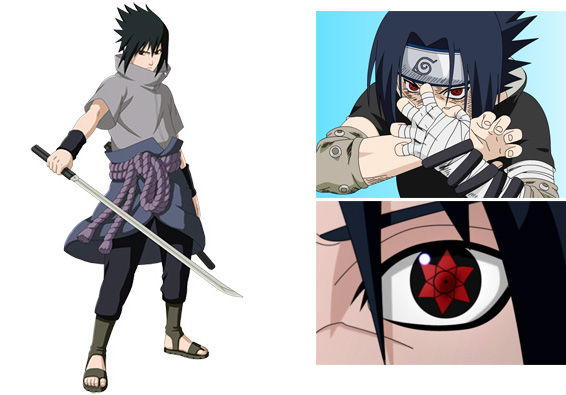 Uchiha Obito: Mangekyou Sharingan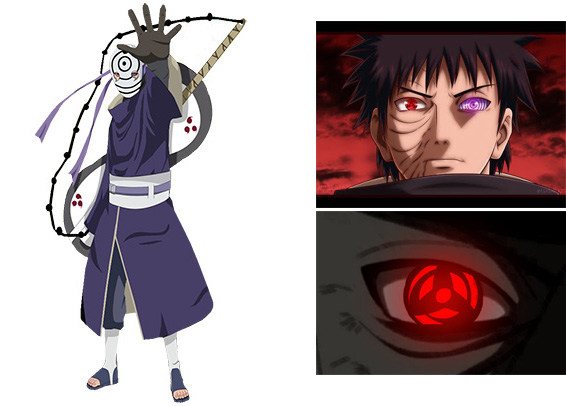 Hatake Kakashi: Mangekyou Sharingan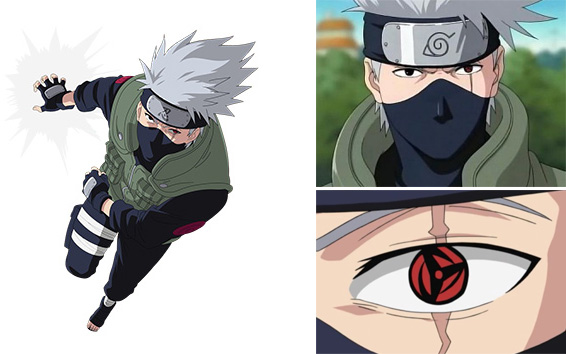 Uchiha Itachi: Mangekyou Sharingan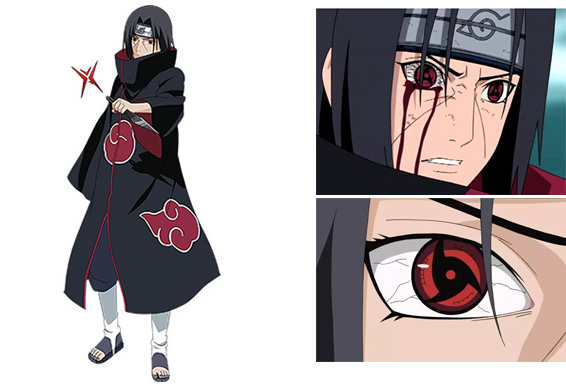 Uchiha Madara: Mangekyou Sharingan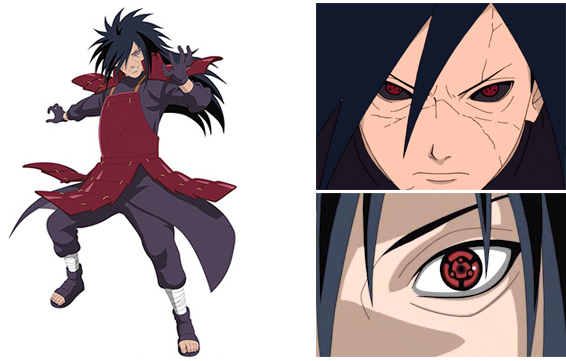 Byakugan: All stages
There's another special dojyutu's that Hinata clans have.
The oldest dojyutsu kekkei genkai in the Shinobi history, "Byakugan", was also possessed by the progenitor of Shinobi, Otsutsuki Kaguya.
Rinnegan(輪廻眼)
Rinnegan enables the user to decipher the Uchiha inscriptions, which was even impossible for Mangekyou Sharingan users. It also allows the user to attain 7 kinds of techniques including Jigokudō, Gakidō, Chikushō-dō, Shuradō, Ningendō, Tendō, and Gedō, that was mostly attained and used by Pein Rikudō(The Six Paths of Pain), the 6-person group created by Nagato. Nagato created Pein Rikudo by allocating the 6 kinds of techniques excluding Gedo into 6 dead bodies and sharing the vision.
Susanoo(須佐能乎)
The user attains this third ability when they awaken two different techniques of Mangekyou Sharingan. The chakra of the Susanoo user makes a humanoid avatar with high defense skills. Uchiha Itachi was well-known as the user of Susanoo, and he showed his skill of remote attacking called Yasaka-no Magatama. The shape of the avatar was depending on how much skill the user have. When Uchiha Sasuke first used Susanoo, first the avatar was skeleton-looking, then it slowly started changing its form to human by building up its muscles and skins. Since Uchiha Madara had a high ability on its skills, his avatar of Susanoo had a complete body.
Want to attain the ability of Susanoo? Try different lenses in each eye!
Hyuga Hinata: Byakugan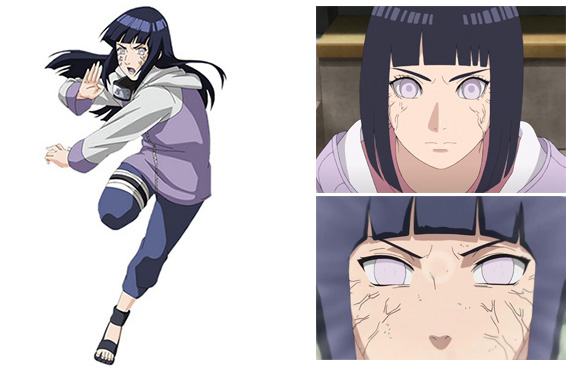 Otsutsuki Kaguya: Rinnegan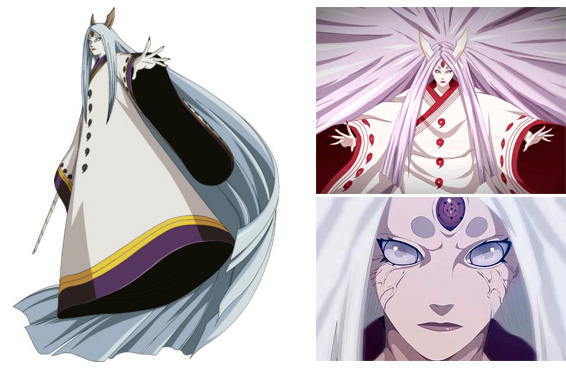 Safety Tips to Follow When Using Sharingan Contacts
Contact lenses are now becoming a part of the lifestyles of today's young generation, as it could do magical turnover to their style and look. You might ask why they are going for Sharingan contactsOne of the main reasons behind it is to change the eye color. If you are a die hard style enthusiast, then you probably interested in hunting down some of the top-notch pairs of trendy contact lenses. Crazier yet stylish, these contact lenses could have a big impact on your look, that you would notice after using it.

It might be difficult for the first timers to use it, but with some safety measures it would be really easy to use. If you are new to the lenses, then you need to follow some specific rules when wearing contact lenses for a safe and fun experience. Listed below are the guidelines for things to do and not to do when using the lens:

Do not use tap water to wash your lenses as it might create germs inside it. It could cause infections to your eyes and also bring damage to your lenses. Always use the prescribed multipurpose solutions for cleaning purpose and every day change the solution in the storage to get rid of any germ build up. Changing the lens case in every three to four months is also recommended for the same reason. Most of the cases come with the letter indicators, it's either on the outside or inside, i.e R for right and L for left. The indicators help avoid any confusion when using or storing the lenses. If your case do not have the left and right indicators, then you should use your own signs to identify them. It is good to use the right lens only for the right eye and left lens only for the left eye to avoid any kind of eye infections. If your eyes feel dry, then use the prescribed eye drops in order to moisturize your eyes. You should use it in a proper portion. Keep your lenses in room temperature. Never try to wear the lenses for more than 8 hours. Do not sleep with your lenses as it could cause corneal ulcers and eye infections. Do not wear your lenses, if you are getting ready for a swim or sauna. Use your lenses single handedly. Never share them with your friends. Do not let your eyes open during the application of aerosol spray. Suddenly remove your lenses, if you feel any kind of discomforts.

Finding a great pair of Sharingan contact lenses could be a little tricky. As a number of websites offer cheap shipping and delivery rates, but only a reliable source could give you the best of all at a reasonable price for your convenience. You would find some prescribed contact lenses that come in many trendy colors. It's only a matter of searching for the best online shop that could earn you a handsome deal.

Author's Bio:

Are you in a hurry to have Sharingan eyesThen, look no further! Buy Sharingan contacts from the most trusted online store http://www.queencontacts.com/ right now to complement your look.